How to Skip the Lines at Paris Catacombs
How to Skip the Line at Paris Catacombs
1. Choosing the right time to visit
Only 200 people are allowed at a time, and each tour takes 45-60 minutes. So, if there is a queue when you reach, you might have to wait for about 45-90 minutes. Early mornings or late evenings may find you lesser crowds. Weekends and public holidays definitely attract more crowds, so it is best to avoid them.
2. Buying tickets online in advance 
Catacombs Paris are known for notoriously long queues. Wait can be long, sometimes as much as 3 hours. You do not want to waste your precious time in the queues. Skip the line tickets let you get priority access to the catacombs. Purchasing skip the line tickets online would definitely save you time.
3. Guided tours
There are audio guides as well as guided tour options available to explore the medieval tunnels of Catacombs. The whole experience is not just interesting but also saves you time. Another advantage of a guided tour is getting special access to off-limits parts of the catacombs where regular individual visitors are not allowed to go to. It is fascinating getting to know facts and information about French Revolution, Nazis, quarry workers and the ones who built the palaces and churches above, ancestral cemeteries of Paris and much more.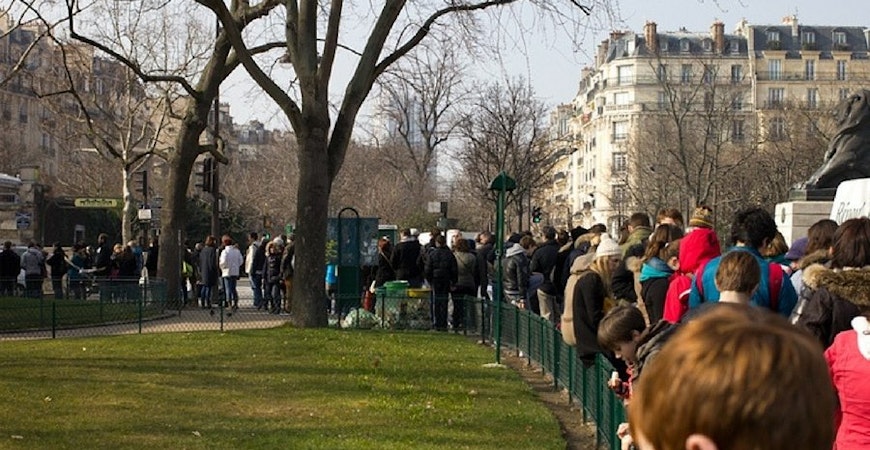 Insider Tips
• The Catacombs are underground and the tunnels are narrow, meaning it might not be suitable for anyone claustrophobic.
• Keep at least 1 to 1.5 hours besides the waiting time to explore the Catacombs comfortably
• Besides the weekends, Catacombs are again quite crowded on Tuesdays as most of the museums are closed on that day. Avoid Tuesdays if possible.
• Bags are searched on exiting the Catacombs to ensure you are not carrying back any artefacts.
• On entry, there are 130 step spiral staircase to descend. On exit, one has to climb 83 steps back to the street. One should be comfortable with this. It does not have special access for wheelchair visitors.
• Dress appropriately for a temperature of 14°C inside the tunnels. 
• It's important to remember that each skeleton has a history and there are thousands of them on display, so everyone is requested to be mindful.
• Keep in mind that you enter from one gate, and exit from a different gate, hence there is no going back..